Obviously, a lot has changed since the first words of this issue were conceived. The cornerstone of Fall 2001 was to have been Tom Bertonneau's welcome revisiting of the ever-controversial Oswald Spengler. Tom has long been prodding me to read Spengler, an endeavor which I kept evading in the deluded belief that I would one day "have time" for it. I finally took the bull by the horns—or, I should say, the tiger by the tail, for Spengler takes one for a wild ride and sends faint hearts shrieking through the forest canopy with every step. I could not entirely share Tom's enthusiasm (though I must confess that my reading of Spengler cannot compare to his in thoroughness), but I found in The Decline of the West a highly provocative range of ideas which focused my own about destiny and freedom. I dare to include some of these latter in the present issue, as well, that readers may enjoy a productive disagreement and retreat to their cloisters for further meditation. As the Highlanders used to say, chan fhiach curam gun a choradh—"no party's any good without a quarrel."
What overtook us on the morning of September 11, though, was no quarrel: it was mass assassination. I had little difficulty soliciting early responses to the appalling events which our oracles persist in calling a tragedy. (Sorry, but a tragedy involves some degree of the victim's direct moral collaboration: it is a self-fulfilling prophecy, though the prophet failed to forecast either its magnitude or his own role as the central target. Whatever you may feel about our collective responsibility for the attack—and theories range from the academy's slavering anti-Western claptrap to Falwellian apocalypse to fiddling-while-Rome-burns oblivion about security—we were not implicated with a properly tragic immediacy. Now, if one of our domestic carriers had accidentally wiped out a tower… well, hybris goes before a fall, as the chorus warns Oedipus.) Naturally, I decided to lead off the issue with two of these reflections, one penned just hours after the events, the other slightly later as the Ivory Tower stood rock-solid and lofty over the misunderstood bad boys with blades.
I noticed that Gianna DiRoberti had slipped in a reference to the Taliban at the end of her literary essay on bad boys of fascist and Stalinist varieties. It was highly effective, and I'm glad that the parallel to current events appeared to her. I also think, however, that the journal's other contents are not irrelevant to our nation's present reviewing of priorities. In fact, there could scarcely be a better time to weigh the Spenglerian notion that cultures are isolated within their differences. Even if this were so, it could not waive the necessity of one culture's responding to another when they collide, as is happening right now most dramatically. Since the Spenglerian position potentially resembles multiculturalism, as Professor Bertonneau demonstrates, one cannot reflect upon Spengler without reflecting simultaneously on the campus's almost univocal call to "understand" Islam. (Of course, Spengler's essential insight is that we are unable to understand, a posture which academics will both strike and shirk, depending upon their objective.) Certainly it is no easy matter to understand even your neighbors. The poems which I included from Ralph Carlson this time seem to say as much, though they also say far more. (I'm leery of selecting poetry on the basis of theme, as all those freshman comp anthologies do: the whole point about poetry is that it doesn't have a specific point!) Likewise, Mr. Moseby's short story is unusually strong in how it insinuates the layers within layers which complicate ordinary relations. At the same time, however, it grasps tirelessly after some thread to lead us out of the labyrinth—and what else, after all, can we do? I regret that I cannot pose that question to Oswald Spengler himself, for it seems to me that simply "fulfilling our destiny" is a very poor answer to it. What else are all of us afraid of right now, but that our own society and a certain prominent contingent of Islamic society will proceed to fulfill their all-too-apparent destinies?
For most of us who read Praesidium, I believe, were deeply concerned about our culture's destiny long before September 11: we didn't need a terrorist to tell us that we have problems. Indeed, the terrorists have actually succeeded in pulling our attention away from our internal problems, and so have assured that we will be the longer in putting our house in order. Praesidium has never been coy about its distress over the West's susceptibility to relativism and hedonism, its subjection to material toys and giddy change, and its indifference to past lessons and to its own traditions. Ironically, the crowd which has most succeeded in giving our downward spiral a sophistical rationale is also the most vocal apologist of the terrorist perspective: the professorial class. In other words, those among us who claim to feel the terrorists' pain most keenly have done the best job of advocating what the terrorists most despise in us.
I propose, therefore, that we dedicate the first issue of 2002 to examining our cultural malady—to offering an alternative diagnosis, that is, in the face of our esteemed colleagues' rants about Christianity, the Crusades, and the embargo of Iraq. Mrs. DiRoberti has already told me that she would like to continue translating from Pierre Lasserre's magnificent Romantisme Français, to which I proudly introduced her this fall. I see no inconsistency there. Lasserre seems to have got a headstart on our autopsy as soon as he noticed the acclaim with which Rousseau's nuttiness was received. ~J.H.
**************************************
Rest in Peace, World Trade Center:
Live Unsettled, Mankind
by
Peter T. Singleton
At this very instant, the destruction of the two World Trade Towers is almost exactly seventy-two hours old. Many more instants will have passed before I put the finishing touches to my ruminations, and a great many more still before this piece passes under the eyes of others. As a student of our troubled culture (like all Praesidium readers), my mind is fertile with ideas. Rather too much so—I can think of at least three or four irreconcilable tangents which are tempting to chase. Yet within this fertility nestles the sterility known well to most writers. Too much is often not nearly enough, and little short of everything may end up being little short of nothing. The ineffable haunts us before any subject which surges beyond the bounds of human comprehension in every direction, and our best efforts to cry out some part of that ineffable only bear despair down upon us.
Not that I am straining after some literary equivalent of a media montage, where reporters babbling hard facts outside the Pentagon are salted into heart-wringing interviews with survivors, adrenaline-surfeited briefings from rescue workers on the trot, presidential press conferences, and Q&A with Secretary Smith or Jones back at the studio… all of it wrapped in a slo-mo video signature where a jet slams into a skyscraper and captions like "Attack on America" and "War of Terror" are luridly unpeeled across the screen. I have actually found the television coverage of the event to be highly informative and comparatively tasteful. As little inclined as I am to sit through tear-jerking reunions between separated twins or an amnesia victim and his family, I nonetheless viewed these tears in a different light. The former are certainly staged, if not manufactured, for a populace apparently starved of any profound emotion and reduced to parasitizing the shrieks and sobs of others; the latter are not remotely staged—the faces on camera are indeed struggling to retain their composure rather than quivering on cue, and their all-too-ordinary distress (no kidnapping at birth, no loss of memory: just a phone call after an explosion) must surely help to shake that same mesmerized populace out of its stupor. The real, the real real, has entered our lives this time with such a palpable shock that the news hounds have scarcely been able to blunt its impact with their egomaniacal posing and framing of actors and events.
As a cultural commentator, however (for those are the bounds within which I confine my remarks), I could not help but notice how often the electronic fantasy-world was gestured at as a referent during the first chaotic hours. "It was just like a movie"… "I thought they were making a movie"… such utterances kept surfacing throughout the day on September 11. I was reminded of a young man at Wedgwood Baptist Church who had said precisely the same thing after the homicidal shooting incident there: "We thought they were making a movie." Perhaps because I have written about the subject of desensitization so often, I tensed every time the simile was used. It is a deeply disturbing response. I would most certainly not charge that most of the people in the streets who voiced it were, in fact, desensitized to the misery which ensued: but to the initial horror, yes—I think their perception that something truly horrible was afoot required seconds instead of milliseconds. They had first to rend the dense film of "entertainment" conditioning before they could confront the raw reality. For the young people in Wedgwood, these precious seconds of delayed recognition may have been fatal, either for themselves or for those they might have assisted through quick thinking. I don't suppose there was any similar cost paid on the streets of New York: the thunderbolt had already been thrown. On general principle, though, I remain indignant that our culture has so programmed us that we must shake a few cobwebs out of our heads before we can meet sudden extraordinary occurrences. Our brothers and sisters, our husbands and wives, are dying before our eyes… and between us and the memory of their death will forever flit the ghost of Towering Apocalypse Part II. We had a right to see every split-second of the flame's ghastly flowering: the clarity and precision of our recollection may have much to do with how soon we come to peace with it. The boundary between our lives and eternity has been limned with gaudy tinsel. It's cheap—it's trashy.
At this point I consistently lose one of my strands. Western culture's (and especially America's) utter enthrallment to Hollywood-style portraits of life is odious to me. I wish it would change, and I understand why other cultures around the world—for instance, Islam—find it outrageously offensive. I have often wondered why some reasonably cultivated group of Muslims doesn't put its concerns to us in the form of a quid pro quo which our shakers and movers could neither mistake nor resist: "Look, you want our oil, and we want a degree of your technology—but sanitized of certain features which are morally repulsive to us. Stop exporting your sick flicks and we'll knock 10% off every barrel of crude."
Of course, I don't really wonder: I just make-believe. The truth is that no such influential group of reasonably cultivated people exists within Islam. People of that caliber have been killed off, imprisoned, and otherwise strongly discouraged. With America you get freedom close up, in all of her moles and body odor; with Islam you get rigorous devotion to the law carried to extremes that would turn any decent person's stomach. I suppose we were fated to clash. There doesn't seem to be much basis for compromise in all the leagues of middle ground which stretch between us like a Sahara.
Except that such argumentation is entirely misleading in the case of the terrorists. These are not pious Koranic scholars who have transformed themselves into mujahiddin as a medieval knight might have joined the Crusades. Their leaders are more like Pol Pot of just yesterday than like the epic Saladin. Their boys are whisked away from the cradle into a climate of Manichaean black-and-white reductivism, raised with guns and bombs instead of soccer balls, tutored in extremist fanaticism without any peep of a dissenting voice, and cheered on by peer groups whose members yearn only to be next for the fiery furnace. Nothing new in all that, you say? But the guns are new—the kind and number of weapons, many of which fell into terrorist hands courtesy both of American largesse and of Russian carelessness. The technological sophistication which must accompany such weapons is also new: that is, it is fully Western. We are no longer redcoats with Enfield rifles fighting sheikhs with scimitars naively held aloft. Increasingly, we are fighting ourselves: surface-to-air missiles, infrared tracking systems, biological warfare, and the rest. The other side's professed hatred of our culture is deceptive on this score. Its overlords have fallen head-over-heels in love with every effective instrument of destruction we ever created, and where we flee from developing certain ones as if being chased in a nightmare, they weave their favorite dreams. As diehard atavists, then, they are bogus. Very possibly, they do not yet realize this much about themselves, but it is true. They remind me more of the frightful bipeds we are producing in some of our high schools than of Omar Sherif's band in Lawrence of Arabia: shooting e-mails back and forth to co-conspirators, building world-domination websites, hacking into classified documents, playing with high explosives, poking around in places clearly marked as "off limits"… don't look now, but this could be your neighbor's brat teenager. It seems that a CD-Rom exists which simulates the cockpit of a jetliner flying straight over… yes, the World Trade Center and Pentagon! Though the hijackers may have used the disk to train, it was produced in the good old U.S. of A. And how many times, I wonder, did these young saboteurs who drilled themselves on our soil with our facilities unwind of an evening by going to the movies rather than reading the Koran? In which employment do you think a twisted mind is more likely to be confirmed in a taste for vast conflagration?
Which leads me, with the greatest regret and trepidation, to a most disturbing insight. I should like to be able to write with complete conviction that American boys (and I mean boys: children who are no longer children, nor yet men) would ever do such a thing as snuff out five thousand randomly chosen non-combatant lives. But what would be the basis of such a claim? Could an adolescent who sprays with bullets a crowd of boys and girls (some of whom are still children in every sense) before shooting himself be expected to have bristled with horror at the thought of steering a passenger jet into a huge office building? On the contrary, it seems only too clear that Messrs. Clebold and Harris (of Columbine infamy) would have found the events of September 11 "totally cool"—and it seems painfully likely that their successors in spiritual nullity throughout our vast locker-lined halls of fungus must have looked on with just that response. Right now, as far as I can surmise, the only thing protecting us from a hailstorm of young morons in Cessnas attempting kamikaze attacks with fertilizer payloads on board is the relative expense and complexity of the operation. If our typical street gang enjoyed the mentoring of some diabolical ex-commando with a grudge and the generous funding of (say) a Colombian drug cartel, I have to conclude that every month would have a September 11. The suicide pilots were punks and gangsters who, on a given day, looked like the guy hooking up your TV cable and sounded like the Holiday Inn reservations clerk. They may not have been the kid next door… but the kid next door could readily become one of them.
Navigating these sober reflections was made no easier for me by the assurances of newscasters that people are really good and that these attacks, consequently, could only have been the work of a mind so warped that the statistical probability of its existence lives far right of the decimal point. We were spared such claptrap for the first day or so. (Like those five or six stages of grieving which we are all told to magnet to our refrigerators, journalists seem to have their revered hierarchies in times of crisis: replay disaster, look for new angles of disaster, replay all recovered angles, stick mike in survivors' faces, let winsome but dictionally challenged youngbloods wear down any abiding reluctance among public to say "surreal", and then—only then—assure world that most people are good and religious fanatics/fatcat execs/gun-friendly politicians are root of all evil.) Only Peter Jennings, as far as I know, undertook to assure us on the evening of the 11th that the footage of Palestinians dancing in the streets did not reveal that population's true feelings. (Having recently completed a junket to Egypt or Lebanon or some such place, he promised us that he knew all about Asia Minor's heart of hearts.) I could have done without the "thoughts and prayers", too, of anchor-persons who apparently don't know which god they pray to—to all of them, I guess, whoever's up there or out there, just to keep the bets hedged. I won't say that I begrudge the struggling agnostic a straining after the metaphysical in moments such as these: I say only that I don't find it at all informative, let alone cathartic—only pathetic, and a little patronizing. Diane Sawyer was uncomfortable enough wearing sackcloth that she just had to indict wincingly Jerry Falwell's remark that homosexuality and feminism played a part in bringing down the Towers. Though tarred in the idiom of those who see in every flat tire an expression of God's will, the proposition is otherwise not outlandish: Muslims are disgusted by ostentatious flirtation beyond decorum's pale. Why not just drop the subject of prayer entirely if you can't resist using it as a bludgeon on sinners against PC? Co-anchor Charles Gibson covered Diane's stumble (when it became apparent that the attack on feminism incensed none of the mourners on screen sufficiently to lay aside those other attacks): wouldn't it be nice, he opined, if churches around the country would invite Muslim congregations to ecumenical services, as was happening in Portland? Hang it all, why should anyone want to be alone with his own faith at times like these! That's the attitude which got us into this mess… isn't it? Why not have a priestess of the Great Goddess preside, in propitiation of Falwellian heresies?
There goes another strand over the edge with me. What I originally meant to point out is that the ivory-tower utopianism which permeates both the academy and the network news remains adamant even after such a hit as this: there's one tower that will never fall! At the time, it infuriated me almost as much as the attack itself: I have since recovered some humor and resignation. But honestly… how much more deeply could anyone's face be rubbed in the sordid evidence of human nature's corruption? The Palestinians cheering in the streets are not nice people, any more than we are perfectly nice over here. They are ignorants who have allowed themselves to be exploited by megalomaniacs—and some of them are outright fools. Islam has a long tradition of encouraging people to see things in black and white: good over here, evil over there. In my humble opinion, it is flawed as a religion in that respect—and I offer that sentiment only as an opinion, but one which I should surely be permitted to treat as a conviction in the practice of my own faith. Naturally, Christians are also exposed to the same siren-song of reductivism. I once heard the Reverend Falwell with my own ears declaring that a minister should not offer a lift to a pretty young woman in a rainstorm lest parishioners see and gossip… such sad distortions of the Message. What we desperately need to distill from the present horrors is not that we may once more fantasize about utopia having removed Osama bin Laden—as we did Slobodan Milosevic, as we did the Soviet party bosses, as we did Adolf Hitler. It isn't coming together we need while the video-arcade brigade nukes one more dangerous crackpot: it's withdrawal into our closets, to examine ourselves. Nobody is particularly nice—yet reasonable men and women, knowing of their dark side, can lay down civilized rules and agree to abide by them. Spare me the Jennings Weltanschauung. Just give me a little sobriety, and maturity.
The world will never be the same, our talking heads keep telling us. Well, it hasn't been the same for some while: we're just beginning to wake up to the fact. One cannot live with any modicum of safety in a technology-riddled environment and still afford the luxury of childishly facile hopes about human nature. We are now and have long been exposed to incidents of mass kill-off whose "fuse" resides in the degree of power we have delivered from our weary hands into automation. A prolonged power outage, a collapse of the Internet… a poisoning of the water supply or of the air in some densely populated skyscraper (remember Legionnaire's disease?)… car bombs in city centers, Cessna bombs raining down on the next U-2 concert (terrorists are not always devoid of irony) or the next Million Man March… none of these shadows is going to disappear with the mortal coil of an Arab genocidist. Our one good chance, ultimately, is to slow down and live moderately. Wait longer for fewer flights that travel less comet-like. Take more time to transmit and receive less information whose content has been more lengthily pondered. Compress smaller human swarms in fewer central locations which rear their heads less arrogantly. Make the trip to Yellowstone or Vegas once a decade instead of once a year. If this is surrendering our American way of life and letting terrorism triumph, then include tornadoes, hurricanes, and earthquakes among the saboteurs, for they, too, will be somewhat neutralized should we ever recover some of our ability to stay at home and read a book. On the other hand, don't forget to include utopian idealism on the same list of assassins, for such extravagant naiveté nowadays falls well within the bounds of criminal negligence.                                        back to top
**************************************
Academentia: Terror in the Tower
by
Mary Grabar
On the orders of a physical therapist, several times a week, I pedal, lift, and stretch in the Ramsey Center of the University of Georgia. From the stationary bike, I stare at the row of silent and captioned television screens, my cultural voyeurism through a medium I have refused to pay for at home.
On this bright September day, rows of stair-climbers, skiers, rowers, and bikers keep their faces fixed on footage more fantasy-like than usual in its content: the toppled World Trade Center Towers and ruined Pentagon with captioned phrases containing the word "war".
On other screens, the usual: numbers flash for psychic hotlines; over-packaged, over-priced products to make one's body, car, house, or toilet smell good bounce around; perfectly coifed and muscled bare-chested men express 'feelings' to wide-eyed, just-as-perfectly coifed starlets as preludes for the bedroom scene on which the episode will end; men who have recently learned that the little ones toddling toward them are their progeny sit between the new girlfriend and child's mother and make promises to a TV hostess/surrogate mother; the latest rap 'artists'—muscled, tattoed brutes with harems of gyrating women sidling up in what a few decades ago would have been rated pornography—gesticulate menacingly. The only sounds are the whir of the machines and the guttural groans and guitar grindings over the speakers of young males expressing what they can only imagine is angst. (Oh, please, give me the disco of my youth instead; at least the decipherable lyrics had no pretensions and were accompanied by a beat.) But the wails of the newest rebels without a cause are what the student managers choose to play most of the time, and as long as the pseudo-authentic expressions of despair don't get too loud I don't complain. Besides, my complaints would arouse the patronizing compliance that I have to come to expect from those in positions of authority who are half my age.
Today, even the cries of misunderstood adolescents seem to come at a lowered volume. And the squeal-punctuated happy reunions of pony-tailed, half-naked girls are subdued. (The soccer heroine's baring of her sports-bra encased breasts a few years ago—interpreted by many commentators as a feminist statement—seems to have given freshman girls permission to do the same. The frat guys, enthralled more with the images of their biceps in the mirrors, barely give a glance.)
I stare more surprised than usual at the television monitors.
Next to one screen showing New York City's tallest building brought down is another screen showing the rapster mouthing obscenity-strewn complaints against the 'system'. I remember that on my desk at home is one pile of freshman essays and another pile with chapters from my dissertation. Both wait to be marked up in red.
It is September 12, 2001. Seeing television on a sporadic basis and in this manner starkly highlights certain images that serve as metaphors of our culture. A thought flashes through my brain: the fundamentalist Muslims do have reason to be critical of our culture. Tyranny lies in wait, constantly vigilant for moral anarchy, as Plato said.
I would not get to see and hear full television coverage until I went to a friend's house the next day. When I heard from the wide-screened TV the screams from the victims as the plane smashed into the building, I was reminded of our screams as my son and I were hit from behind in a car accident last year. Fortunately, we suffered only minor whiplash as the little Civic spun off guard rails and into two cars in the lane next to us. Miraculously, no one suffered serious injuries in a four-car accident that totaled two cars, mine included. I wondered how far the human imagination could go in dreaming up such an act and deliberately doing this to thousands of people. This had been an act of pure, unmitigated evil. A plane deliberately flying into a building? Seeing the footage confirmed my belief in a Satanic presence.
I had lunch with a colleague that Friday. Since his classes had been in session on that fateful Tuesday, he had found himself needing to discuss the topic in his freshman composition classes. He told me he was thoroughly informed on the issue: he had been reading The New York Times cover to cover. As he explained to his students, the resentment against the U.S. and the West went back to the Crusades. While he like everyone was saddened by these acts, he cautioned his class to look at both sides of the issue and attempt to understand the motivations underlying the acts of terrorism.
I was reminded of an episode of All in the Family where the Meathead beat himself up for having hit a man who was attacking Gloria (his wife) on the subway. The Meathead, instead of trusting himself to protect the weaker (Gloria was a lot smaller than the hulk), tried in the manner of postmodernist critics to "understand" why a man would be made desperate enough to attack an innocent and obviously weaker human being. Though Norman Lear did not intend it, Archie Bunker came off looking good in that episode and, in retrospect, despite the producers' efforts to make him appear a bigoted, bumbling buffoon, emerged overall as a decent person—especially in contrast to the mooching and agonizing, and appropriately named, son-in-law. Fetching a beer (as Edith did routinely) does not seem like much of a sacrifice to make for someone who would risk his life in battle, whether in the mountains of Afghanistan or the subway, to defend a loved one.
The weekend was spent driving my son and his friends (some of whom are draft age) to and from Boy Scout camp. On Saturday I went to a bluegrass festival in the North Georgia mountains. Many flags were displayed in the audience of Southern Archie Bunkers. I got teary-eyed as "The Star Spangled Banner" was fiddled out by a man in blue jeans and cowboy hat against the backdrop of a giant American flag.
I have often found myself in similar surroundings when I attend folk dance weekends: in a camp nestled in the Appalachians, a ring of close, heavily treed hills cradling a peaceful group of people who have gathered to carry on a traditional American art form.
But such a setting, I thought for the first time that weekend, leaves its participants extremely vulnerable. Tents, cars, stages, and camp buildings would provide woefully inadequate protection against bombers or even the puddle jumpers that fly out of Athens. I found myself frequently glancing at the sky.
One commentator in the days immediately following the attacks declared the end of cynicism. Tragedy had brought the country together. September 11 would be remembered by all Americans. Our lives would be changed forever. I gave a donation to the Red Cross and put a flag on my mailbox.
It took only a few days, though, for reality to hit. The commentator does not work in academia, where cynicism and political lunacy rule the day. Still reeling from the shock and new sense of vulnerability, I was surprised to find the following week an analysis by Noam Chomsky forwarded on a graduate student e-mail list. By this writing, a month later, his and like arguments have been analyzed by conservative commentators and have been called everything from insensitive to traitorous. Even the murder of thousands of innocents on our soil could not stop the Marxist-postmodernist academic machine from grinding out the predictable analysis of how American imperialism (terrorism in its own form, according to these hip theorists) had brought on these "acts". The academic solution was to capitulate to the terrorists: send "aid" and hold workshops on "understanding Islam". (The latter seemed to be self-contradictory since the same exponents who implored us to "understand" Islam were largely the ones who claimed that terrorism is not a part of "real" Islam.)
More of course was to come. Protests against military action were held on campus here and on campuses across the country. Roundtable discussions by "experts" were convened. Interviews on public radio were conducted with kindergartners who had experienced anti-Arab "harassment". A psychologist on the same station offered her advice to "forgive" these perpetrators, go through some kind of healing process or "stages" and, of course, try to "understand" the other side. However, other than the gratuitous acknowledgements that prefaced Marxist diatribes, no one from the Left seemed to remember that real people—screaming and jumping from buildings—had been killed. Their numbers were compared with the numbers who had supposedly suffered at the hands of U.S. imperialism.
The overwhelming feeling I got from additional e-mail missives, notices, and bulletins was that I was to atone for my lack of "understanding". I got the impression that more than ever I was expected to investigate my sins of omission against an oppressed and misunderstood group. Notices for workshops on "understanding Islam" sprouted on bulletin boards.
I longed for the simple folk who had come out to hear a gospel tune and some old-time fiddling.
On the e-mail list a few daring voices suggested that the time and place were not right for disseminating one's political views (though only one graduate student would dare to question the leftist assumptions of those views). One student pleaded to the senders to refrain (even after a few weeks) from sending the political announcements: she had friends and family who had had to jump out of the Pentagon building. Her and others' calls for restraint were met with profanity and belligerence. I chimed in and asked for civility and respect for the dead. I was called a fascist.
These Chomsky-ites are the same ones who put up the notices for the peace-ins. They dedicate themselves to perfecting the world—in their own image. They march for the proletariat and animals and for choice in abortion and euthanasia. They would scoff at my suggestions that dance numbers which mimic sexual intercourse be censored from television, yet they refuse to teach Huckleberry Finn. They celebrate through documentaries, radio interviews, and newspaper articles cultural diversity and openness—even and especially—such as that displayed by Tobias Schneebaum in his attempt to "understand" Peruvians by engaging in their cultural practice of cannibalism. However, even the reportage on a documentary about Schneebaum's return to Peru fifty years after this cultural exchange does not escape an accusation of Western privilege by an academic, the editor of the special edition of South Atlantic Review entitled "Being Global: From the Enlightenment to the Age of Information" (Spring 2001):
The issue of access, however, remains tangled. Take for instance, the story about Tobias Schneebaum [in the New York Times Magazine] who returned to Peru recently... to relive his days spent with the natives. This second journey took place not because he wanted to go back but because he was urged to do so by two documentary film makers.... Agency is far more difficult to locate in this instance for reasons that are not hard to find.1
What Schneebaum did with the Peruvians, however, is not in the least questioned or criticized by this editor, Mita Choudhury:
Shedding his Western clothes and identity, Schneebaum had lived quite comfortably among the Peruvian natives who generously shared their lives with him, taught him bits and pieces of their language, painted him in red dyes, and we learn additionally that "the Arakmbut men welcomed him into a warm body pile." The natural expression of Schneebaum's (homo)sexuality amid this "natural" setting is handled with delicacy in the article.... The section that deals with cannibalism, however, takes on a more breathless quality. Short sentences that describe the ritual of the killing, dismembering, and wrapping in leaves lead up to the terse, one-sentence paragraph... that reads: "He put the human flesh in his mouth and ate it." 2
No mention is made of who was killed. Illustrating Satan's reversal of "evil be thou my good", the act of murder is celebrated as cultural practice and the description of it is criticized for its terseness. That the New York Times Magazine presented this cultural practice without the due respect owed to the original practitioners, the natives, is the object of Choudhury's critique. The magazine is criticized for having presented a "mediated" version, through Schneebaum's "gaze":
Zalewski's article and the documentary film... are two examples of heavily mediated3—and mostly faded—images of the distant Peruvians. Schneebaum lends himself to psychological and all sorts of other analyses because while his experience makes him unique, his identity as a New Yorker, as a sufferer of Parkinson's, as a man with an oversize nose, and ultimately Everyman, makes him a fascinating and rare bridge that is hard to find. The medium becomes the message. The objects of his gaze, the Peruvians, on the other hand, are fascinating but only because Schneebaum has lived to tell their story.4
The act of cannibalism, it is implied, should be accorded rightful respect due its native practitioners and presented through the natives' perspective—not the gaze of a Westerner, no matter how open he tries to be. Apparently, the documentarians and reporters, by presenting this practice through the experience of one of their own, were not "understanding" enough of the cannibals.
One wonders what the response would be to posters hung up in campus buildings advertising "understanding Christianity" in the wake of the terrorist attacks. Would professors dare to suggest to non-Christian students that they learn about this religion and culture to foster "cultural awareness" at a time of "great tragedy"? To present an alternative view to the primitive pagan one that killing, dismembering, and eating those believed to be made in God's image is a sin? One wonders what would happen if other cultures would allow the presentation of these ideas as well as such ideas as equality and sanctity of all human life—which includes protection of the young, the old, and the weak; the honor for parents; the promotion of monogamous marriage to replace the idea of the harem; and the injunction against killing. What if this view were to be adopted by those around the world? Indeed, what if such workshops on "understanding" could simply be held in all parts of the world?
Unfortunately, the Professor Meatheads who now run the academies, like the mullahs, preclude even the dissemination of such ideas. Before September 11, they were concerned with giving due respect to cannibals. I guess I should not have been surprised by their insistence since then to give similar respect to terrorists.                                                      back to top
**************************************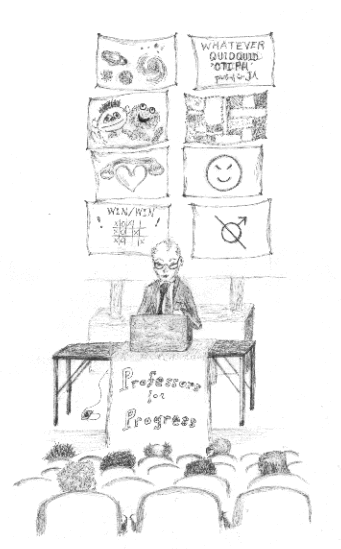 "After Professor McKay reads statements from the Militant Liberation Army of Smeralda and the Holy Warriors of Muzhikistan—whose spokespersons have been detained by our fascist government—we will vote on the best flag to represent world unity and combat this present outbreak of American nationalism. Again, many thanks to Vitalia for chairing the Flag Committee. Coffee and doughnuts will be in the foyer after this session."
**************************************
The Jargon of Mock Ethnicity:
Multiculturalism and Diversity
as Virtual Thinking
by
Thomas F. Bertonneau
I
Among the books in which I ruminate whenever a dyspeptic mood disgruntles me, the two glowering volumes of Oswald Spengler's Decline of the West, published in 1919 and 1922, loom large. As my friend Steve Kogan once pointed out to me, The Decline's encyclopedic character makes it especially fascinating and re-readable; it always offers something new that one hadn't seen before, an implication, an observation, a citation from this or that erudite source. A perceptive reader can dismiss Spengler's thesis—that the West has entered its moribund, or "Civilized", phase—and still take nourishment from his dazzling learnedness and his determination to advert to the specific and the concrete. Easily does one see why Spengler exercised such compelling power over his younger contemporaries, and not only in Germany. F. Scott Fitzgerald, Henry Miller, and John dos Passos, among Americans, read him. (Fitzgerald even referred to himself as "an American Spenglerian.") The British novelist Malcolm Lowry (see Under the Volcano) read him and so did the once-famous Finn Mika Waltari (see The Egyptian). The painter Oskar Kokoschka swore by him as did the film-maker Fritz Lang and the orchestra-director Wilhelm Furtwängler, among dozens of others equally noteworthy. Spengler clearly knew more and thought more deeply about the issues dear to him (and conspicuous in his context) than did his readers, a fact that they willingly acknowledged. The very organization of The Decline tells eloquently of Spengler's breadth of education.1
No one talks much about Spengler these days. The erroneous notion persists, for example, that he sympathized with or abetted National Socialism. In fact, he took care to insult Goebbels as bitterly as possible when the Propaganda Minister suggested to him, in 1934, that he should take up service as an apologist for the regime; and he would certainly have become either a refugee or a casualty had he not died of a heart attack, aged fifty-six, in the year of the Berlin Olympics. What does this have to do with multiculturalism and diversity? What does it have to do, that is, with the current élite obsession about difference and ethnicity? My title suggests that a connection exists. It is this: I have occasionally wondered, while perusing Spengler's dense yet insightful pages, why The Decline has not appealed to and been exploited by the multiculturalists and diversitarians. While I admit to being chronically afflicted by bizarre thoughts, let me hasten to add that this suggestion by no means courts the comic or the absurd. On the contrary—and here's why...
In addition to claiming that the West was headed to Hell in a hand basket, Spengler also set forth in detail his theory that the "Great Cultures", as he called them, were all but impermeable to one another, cognitively speaking. Modern Westerners, even academic specialists, might flatter themselves that they understood Greek or Arabic or Chinese culture, but they most likely, they almost certainly, did not. What they did rather was blithely and uncritically project their own habits and prejudices on the objects of their study and thus mistakenly see, so to speak, a comprehensibility that did not really exist: "The ground of West Europe," Spengler wrote, "is treated [by such people] as a steady pole, a unique patch chosen on the surface of the sphere for no better reason, it seems, than because we live on it—the great histories of millennial duration of far-away Cultures are made to revolve around this pole in all modesty! It is a quaintly conceived system of sun and planets." In place of this quaint conception of the solar West and its non-Western (Mandarin or Hindu) satellites, and in place of what he considered to be the naive historical scheme of a universal progression of ancient, medieval, and modern, Spengler posited something else, something rather dizzying, like those abysses of which the Derrideans and their deconstructing brethren are so fond:
I see [he wrote] in place of that empty figment of one linear history which can only be kept up by shutting one's eyes to the overwhelming multitude of the facts, the drama of a number of mighty Cultures, each springing with primitive strength from the soil of a mother-region to which it remains firmly bound throughout its whole life-cycle; each stamping its material, its mankind, in its own image; each having its own idea, its own passions, its own life, will and feeling, its own death. Here indeed are colours, lights, movements, that no intellectual eye has yet discovered. Here the Cultures, peoples, languages, truths, gods, landscapes bloom and age as the oaks and the stone-pines, the blossoms, twigs, leaves—but there is no aging "mankind." Each Culture has its own new possibilities of self-expression which arise, ripen, decay, and never return. There is not one but many, each in its deepest essence different from the others, each limited in duration and self-contained, just as each species of plant has its peculiar blossom or fruit, its special type of growth and decline.
While Spengler's prose remains remarkably free from jargon (as a stylist, he follows Goethe and Nietzsche), this passage ought to indicate that much in his thought might be congenial to the discourse that we, in the onset of the twenty-first century, know by the dual designation of multiculturalism and diversity. There is the notorious T-Shirt, for example, that admonishes us that we "wouldn't understand"; there is the claim of affirmative action proponents that only women can suitably instruct women, or blacks blacks, or hispanics hispanics; there is the insistence that, despite our motto of "e pluribus unum", we are in fact a congeries of nations, in the strict plural, and not one nation, in the prescriptively offensive singular. All of these dogmas might, with great ease, find impressive authority in Spengler's assertion that Cultures (his "Great Cultures", with a capital "C") are monads, "self-contained", in his phrase, that uniquely ripen and express themselves and then die away in splendid isolation from all other Cultures. If one wanted this or that supposedly distinct culture to be protected against trespassing occidentocentric claims, then Spengler's vision would go some appreciative distance in guaranteeing one's prophylactic desire. So why, then, do academic multiculturalists and diversitarians (as if there were any other kind) prefer to stake their case in the unreadable, name-dropping, essays of Cornell West or the much-padded pamphlets of Jean-François Lyotard, as published with a preface by the radical-du-jour, courtesy of the University of Minnesota Press?
Shall I count the ways? I'd bet that most of them are obvious, but for the sake of my exposition, I'll be explicit. First and foremost, Spengler is difficult. He knows a great deal as author—apparently he did little else in life save read and write—and he supposes some preliminary information on the part of his readers. I'd say that, at minimum, he expects his readers to have a Gymnasium-level humanities education, to know the classics with some familiarity, to be versed in science, history, geography, national economy, and politics. A modicum of Bildung is required for entrance. Just as, in Spengler's conception, the "Great Cultures" confront each other with Sphinx-like indecipherability, so then will The Decline implacably confront the parochial, the uninformed, reader with a countenance of mocking opacity. Without basic schemata, Spengler's mass of facts (and he is as much for the facts as Sergeant Friday) will strike the novice reader as a chaos. The references to the phases of Cathedral-building in Europe, to the alterations of plastic style in Greece, to the development of hydraulics in Mesopotamia and Egypt, will necessarily appear as so many disconnected enigmas. It's much easier to assimilate pandering representations of the contemporary self or allow oneself to be stroked by the mongers of esteem than to wrestle with a grand, if eccentric, vision. I am reminded of a reference in Saul Bellow's novel The Dean's December, where the eponymous Dean remembers from his Chicago boyhood a Polish barber who lectured his customers on the intricacies of The Decline. The customers quickly stopped listening and treated the barber's interest as an amusing, if somewhat tedious, quirk. A recent biography of Bellow confirms that the memory is actually his. When contemporary academics take any notice of Spengler, which is rarely, they treat him, precisely, as quirky and obsessive and, therefore, as "infra dig." Or not really knowing anything about him, they invoke his supposed but nonexistent totalitarian sympathies. Even so, one would think that Spengler's denial of "one sculpture, one painting, one mathematics, one physics" would recommend him to people who deny that there is "one sculpture, one painting, one mathematics, one physics." Or, broadly, that there is one of anything, like the truth about two plus two. Spengler, despite being European and dead, seems tailor-made for their uses.
If one look back to the longish passage that I cited, however, one can discern another reason, apart from his difficulty, why Spengler would likely pose a problem to the multiculturalists and diversitarians, should they accidentally take notice of him. Recall that, in addition to denying the universality of the arts and of civilization, Spengler also denies what he calls that "empty figment of one linear history" which the modern Western mind has inherited proximately from thinkers like Bossuet and Hegel, and that Hegel bequeathed, quite beyond his control, to his slavish nemesis and successor Karl Marx. It was Marx who claimed, with vehement history-closing finality, to have turned Hegel topsy-turvy and in doing so to have revealed the inevitable final stage of social development. Spengler locates the origin of the unilinear idea of history (so prominent in Marx) in the fourteenth century, among the mystics, beginning with Joachim of Flora. "It would appear, then," Spengler says, "that the Western consciousness feels itself urged to predicate a sort of finality in its own appearance." The author of The Decline ("that sinister Kraut", as Bellow calls him) then goes on to say that:
It is a quite indefensible method of presenting world-history to begin by giving free rein to one's own religious, political or social convictions and endowing a sacrosanct three-phase system with tendencies that will bring it exactly to one's standpoint. This is, in effect, making of some formula—say, the "Age of Reason", Humanity, the greatest happiness of the greatest number, enlightenment, economic progress, national freedom, the conquest of nature, or world-peace—a criterion whereby to judge whole millennia of history. And so we judge that they were ignorant of the "true path", or that they failed to follow it, when the fact is simply that their will and purposes were not the same as ours.
Spengler, possibly the greatest critic of ideology since Joseph de Maîstre, and rivaled in our own century only by José Ortega y Gassett and Eric Voegelin, here articulates an item of analysis that must strike the proponents of multiculturalism and diversity (those voluble proselytes of what they like to call critical thinking) only—I say only—as an intolerable scandal: I refer to the conclusion, in fine, that the perspective of some particular present is necessarily circumscribed, parochial in the most reductive sense, and arrogantly incomplete. Multiculturalism and diversity are nothing, after all, if they are not aggressive claims to complete an incomplete history, made from the perspective of the hardest imaginable and most narrowly bracketed present. From the scene of this history, the much-put-upon particularities that the illuminated purport on their own word to represent allegedly have been (and allegedly still are) excluded. One result of this exclusion—according to the doctrine—is that the reigning conception of humanity has remained morbidly partial rather than salubriously whole. "Let the healing begin." The therapeutic, the transformational, notion indeed lies at the heart of all the justifications of multiculturalism and diversity. Thus "students who interact with peers of different backgrounds or who take courses with diversified curricular content show greater growth in their critical thinking skills than those who do not do so," says Jeffrey F. Milem in his article "Why Race Matters" in the recent "Diversity on Campus" number of Academe, the journal of the American Association of University Professors. Such students, Milem adds, "also tend to be more engaged in learning and are more likely to stay enrolled in college, to report greater satisfaction with their college experience, and to seek graduate or professional degrees." Milem gives not a shred of evidence to support this assertion, but as the conclusion depends entirely on perspective, since it possesses the character of an article of faith rather than of an item of knowledge, why should he worry about evidence? Or as Milem himself subsequently puts it: "Students educated in racially and ethnically heterogeneous institutions assess their academic, social, and interpersonal skills more highly than do students from homogeneous colleges and universities." It's the self-assessment that gives the game away. Multiculturalism and diversity quite blatantly construct and then rationalize themselves in the mode of ex cathedra, or perhaps ex vacuo, pronouncements. "We are that we are," so to speak, and if we assess ourselves as morally superior then certainly we must be morally superior.
Thus does diversity, so-called, herald its own advent and thus does it address the awaiting multitudes as the undoubted summum bonum of cognitive formation: The demographically gerrymandered campus and the rigidly catechetic curriculum then constitute their own raison d'être, for (pardoning the tautology) we assuredly cannot see their necessity until we have submitted to their necessity. One needs to emphasize this closure in the two linked doctrines. They do not seek to persuade (because they are intrinsically unpersuasive); they seek rather the provocation of a perverse leap of faith—and it is this above all else, this promise of justification, that enables us to identify them as ideologies, as substitutes for faith, in the paradigmatic sense.
As Strother Martin says to Paul Newman in Cool Hand Luke, "You've got to get your mind right." It is the unique and self-proclaimed role of multiculturalism and diversity, as our guides out of benightedness and bigotry, to lead us willy-nilly into our new moral splendor. Make no mistake about it, the voice does call on us to become saints; either that, or to suffer damnation. (Which can be arranged administratively.) Although Milem doesn't say how he knows the truth of it, he does assure us that the beneficiaries of the multicultural and diversity regime "are more likely to engage in community service" than their presumably deprived and possibly even depraved counterparts. They will graduate, that is, into the bland beatitude signified in the liberal imagination by the phrase "community service". "Diversified environments," Milem argues, "give students opportunities to develop the skills and competencies that they will need to function effectively as citizens of an increasingly diverse democracy." Thus not to embrace multiculturalism and diversity amounts, borrowing Spengler's summation, to an unforgivable "ignorance of the 'true path'" or a flagritious disinclination to follow it. Who knew, for example (again I quote from Milem), that "women faculty and faculty of color... are more likely to use active pedagogical techniques, which have been shown to improve student learning?" "Active pedagogical techniques"? As opposed, I guess, to the putatively inactive pedagogical techniques preferred by dead white male faculty. ("Professor Whitehead seemed a bit stiff today, don't you think?") But it's no use looking for definitions, for evidence, or for logical consistency. The whole argument takes place within a circle, a viciously hermetic circle, I need hardly add.
Despite their claim to deconstruct the hide-bound parochialism of "the dominant culture", multiculturalism and diversity in fact hedge intellectual life within a narrowly circumscribed horizon which establishes its impoverished epistemology solely on accidents, such as geographical origin and skin-color. Multiculturalism and diversity also seek to ensconce themselves in our minds as the liberating terminus of human development, a sure sign of what Spengler, long before Voegelin, identified as gnostic self-certainty, the claim of knowledge without the benefit of experience—hence without evidence and even in the face of contradictory evidence. Of course, evidence is inconvenient, and convenience is essential to petty dogma. Multiculturalists and diversitarians, in Spengler's words, "posit the finality of their own appearance." They also expel, or make the concerted attempt to expel, everything from their purview that is not congenial to their self-annunciation.
II
Let me return to the theme of difficulty. I began by invoking the intellectual challenge of The Decline of the West, a book so thick with facts that one wonders how its author managed to cram to much learning into so short a span of time. (Spengler wrote The Decline between 1911 and 1919, just about.) Part of the answer lies in Spengler's modus vivendi, that namely of a loner who lived in cheap rooms with little social contact. He seems to have spent what money he earned in acquiring mountains of erudite books, all of which he systematically read and annotated. He knew languages, Greek and Latin, of course; but he also seems to have learned, quite on his own, rudiments of Chinese and Arabic. He knew mathematics and indeed made a meager living briefly as a teacher of high-school calculus.
Of the several chief characteristics of the multiculturalist and diversitarian curriculum, the one that has always galled me the most is its insouciant attitude toward knowledge—toward facts. One would presume, given the argument that "learning about other cultures" is of such paramount importance, that the designers of the new mandatory course of study would insist on languages, for there is no fact about other cultures more adamant than the fact that they speak in another tongue than our own. Insisting that we should study other cultures, one would think that the apologists of the project would put languages at the very center of their syllabus. We know (alas!) that this is not the case. In fact, as the traditional humanities core curriculum has disappeared and as universal requirements have dwindled down solely to those that bear on multiculturalism and diversity, the status of languages, ancient and modern, has diminished. I could be wrong, but I'm fairly certain that no branch of the Michigan public universities (Michigan being the state where I live) any longer requires foreign-language study for all students, no matter what their field of specialization. At Central Michigan University, where my wife teaches French, the administration is frankly hostile to foreign languages, although one of its pet projects is a "global education" program, whatever that means without a working knowledge of Turkish or Pashtu or Chinese. If readers will pardon a brief excursion into autobiography: the Board of Directors of the Santa Monica Unified School District made foreign language study mandatory where I went to junior high school. Between junior high school and high school, I took eight semesters of French (six of them under compulsion) and got so that I could parler with some similitude of competency. I took a year of German in high school and continued to study German in college. I got kicked out of UCLA a couple of times in the 1970s, but when I finally earned my B.A. (in 1983, if I remember), I took it in Germanic and Scandinavian Languages, after which I ruined my life by going to graduate school.
It is my sense of languages, and above all of their irreducible centrality to intellectual growth, that makes me suspicious, in fact, about Spengler's more radical claims, especially the claim that the "Great Cultures" remain absolutely impermeable to one another. People can learn languages other than those that they acquire as children. Romans learned Greek; Greeks learned Hebrew. I once met a Hausa whose smooth and precise English put mine to shame. He had learned it, he told me, under a corrugated tin roof held up by four wooden posts in a remote corner of Nigeria, about the time of the Biafran war. He was currently writing a dissertation on one of the medieval Popes, about whom he spoke with great enthusiasm and understanding. If that is not the penetration of one perspective by another, and if it does not put the lie to the absolutism of geographical origin and ethnicity, then I do not know my own face in the mirror.
I can give a humbler example of the same phenomenon. I devoted four terms, in graduate school, to Old West Norse, the heavily inflected tongue of medieval Scandinavia. (Never mind why—it wasn't entirely by choice.) Anyone who has studied a foreign language can attest the necessity of concentration and diligence; it's hard work. Especially given a complicated grammar, like that of Greek or of Latin or (God forgive me!) of Old West Norse, one must apply oneself with real discipline to the rote memorization (there's no other way to do it) of the paradigms and the syntax. One must learn thousands of vocabulary words by heart. Now I do not assert that I have ever achieved a perfectly transparent Vulcan mind-meld with the consciousness of the thirteenth century author of Orkneyinga Saga, but I have read it in the original, and I believe that I have a respectable idea of how the saga-writers of the medieval period thought and felt, what judgments they made about people and what criteria they applied in order to make them. I can attest that, in many ways, those men thought and felt differently from the way we do, made judgments that strike us as unwarranted, and exercised some dubious criteria to make them. I believe that I know this better than someone who merely reads the story in translation, and here, to quote Spengler, appear those "colours, lights, movements, that no intellectual eye has yet discovered" that has not first submitted to the basic philological discipline. A wonderful chapter in George Eliot's Adam Bede comes to mind, where the titular main character visits his scholar-friend Bartle Massey at the latter's night-school for the local tenant-farmers and their employees. Bede sees "three big men, with the marks of their hard labor about them, anxiously bending over the worn books, and painfully making out, 'The grass is green,' 'The sticks are dry,' 'The corn is ripe'—a very hard lesson to pass to after columns of single words all alike except in the first letter." Learning is hard. It begins with facts like the letters of the alphabet. We do not make up our own letters; we take them as they come to us, in their settled form. When two arithmetic students show signs of not having drilled between lessons, Massey castigates them for "whistling about and tak[ing] no more care what you're thinking than if your heads were gutters for any rubbish to swill through." Education entails both discipline and discrimination.
An additional anecdote: over the last five years, I've tried to make up my ignorance of Greek. Recently, I set myself the task of reading and understanding Sappho's fragment "To Anactoria", the longest surviving sequence of her verses. I sat with my dictionary and my grammar at hand and did the tedious philological work of comprehending the lines. I made a number of (entirely non-original) discoveries about features of the poem that simply would not have revealed themselves if I remained dependent on a translation. In principle, it's no different with reading a tough book—George Eliot's Adam Bede or The Mill on the Floss, let's say, or one of Kant's Critiques, even allowing that one reads the latter in translation. To understand the rural English psyche of the late eighteenth century, as Eliot describes it, or the deductive procedures of the notorious "antinomies" in The Critique of Pure Reason, requires significant concentration and persistence. The Indian philosopher Nagarjuna offers as much difficulty, and as much reward, as the Greek philosopher Plato. I can avow as a sometime teacher of college-level literature courses that the typical American freshman of today, brought up on television and popular music, finds the lily-white milieu of The Mill on the Floss to be quite as foreign—as "other", to borrow the neologism—as the Tibetan Book of the Dead, or the medieval Turkish Alexander Romance. I mean, by the way, that the white kids find it as strange and incomprehensible as the black kids or the Mexican or the Puerto Rican kids. Who the kids are doesn't much matter. They all watch the same television shows and listen to the same bad music. These things tend to sum up their knowledge and in the summary, despite what the multiculturalists and diversitarians would have us believe, they are as like as peas in a pod. The most "other" of other things for any living person is always, I believe, the implacably other "otherness" of past centuries. I would willingly endorse Camille Paglia's claim that the past is, in fact, the only thing that we can teach; and that when we try to teach the present, we become (to borrow from Eliot) mere gutters for raw offal to swill through. But, as I confess, I am dyspeptic. I sleep badly. Spengler gets it right, I'd say, when he underscores the difficulty of extricating ourselves from our own temporal perspective, from our native parochialism. With that aspect of Spengler's case I find myself therefore in full agreement, even though I don't follow him as far as the radical opacity of Great Cultural differences. But I was writing of diversity.
The fraud of "diversity" (and fraud is a rather mild term) lies largely in its swindling ease, in its pandering lack of any demand on discipline or concentration. Multiculturalism calls us, for example, to celebrate the fifteenth-century Zimbabwean fortress-civilization, but never suggests that we tackle the philological or ethical problems of fifteenth century Zimbabwean culture. (What language did the fortress-builders speak? How did they organize their society? What did they believe? The cheap gimmick of "celebration" flies from all of that. And the celebrants might well be embarrassed by what they discovered if they actually pursued the questions.) Again, every branch of the Michigan public universities devotes a week or more every academic year to the celebration of Hispanic culture, but none, as far as I can ascertain, insists that all students should study Spanish. (A suggestion that I would heartily approve, even though, for sentimental reasons, I prefer French.) Nor, let it be said, do they celebrate Spain, or Don Quixote, or the baroque architecture of Madrid. No. That would be "Iberianism", which the politically correct adamantly disdain. The lexicon of multiculturalism and diversity is grossly deceptive in this way, blatantly abusing language in order to wrest terms from common usage. Again, multiculturalism and diversity parade before us an endless train of the representatives of "difference" (just look at the speakers' roster of any campus events program), but conveniently provide that all of them speak the idiomatic infinitive-splitting English of late-twentieth century North America. The "differences" turn out to be phony, not only because the witnesses for "oppression" comport themselves in dress, demeanor, accent, and credit-card habits pretty much like everyone else in our consumer society, but also because they invariably enjoy the privilege of university appointments. They belong, in other words, to the most pampered class in our amazingly affluent and upwardly mobile society.
It is also depressing how convergent, how invariably the same, the message of these alleged representatives of "difference" tends to be. With absurd facility, without effort, one can list the formulas: We live in a racist, sexist, homophobic society constructed, as they say, by the Patriarchy of white males to exclude all points of view that might erode the power of the hegemonic class; our institutions conform structurally to this bigoted norm, and compel us to bigotry on our own quite apart from our intentions. Women and homosexuals and "people of color" are a priori the victims of this bigotry. Only the scathing revelation of these truths can salvage the masses from the deformations inflicted on them by the malevolent system. Part of the Patriarchal deformation is what the more sophisticated of these testifiers will designate as "Logocentrism", a supposed obsession at the core of Western culture with the uniqueness of discrete and inalterable truths that are, "in truth", not there. (The abyss ever yawns.) We should cast off our notion that there are singular truths and that reality itself teaches us what these truths are, and we should replace that false idea with the revelation that truths are both multiple and constructed and that they are entirely subject-oriented, with the additional stipulation that individual subjects partake in a kind of group-consciousness determined (although nothing is supposed to derive from a fixed substrate of reality) by sex or skin-color. These positions, bolstered by frequent adversions to Foucault and Derrida or their epigones-du-jour, might appear to be cheap rip-offs of Nietzsche, who is sometimes appropriated by "postmodern" discourse. But the author of Zarathustra, a serious thinker, ought to be protected from the association. In fact, the real origin of these assertions lies in the crude sloganeering of Karl Marx. Consider the opening paragraph of The Communist Manifesto:
Freeman and slave, patrician and plebeian, lord and serf, guild-master and journeyman, in a word, oppressor and oppressed, stood in constant opposition to one another, carried on an uninterrupted, now hidden, now open fight, a fight that each time ended, either in a revolutionary reconstitution of society at large, or in the common ruin of the contending classes.
The rhetoric of culture, too, appears in the Manifesto, as when Marx states the following:
All objections urged against the Communistic mode of producing and appropriating material products, have, in the same way, been urged against the Communistic modes of producing and appropriating intellectual products. Just as, to the bourgeois, the disappearance of class property is the disappearance of production itself, so the disappearance of class culture is to him identical with the disappearance of all culture.
Marx thus sees the proletariate not merely as the bearer of a new type of economic organization but of a novel culture hitherto oppressed and inarticulate, which is in fact the "true" human culture. This new culture differs from the old in its moral perfection and so completes the history implicit in the long-drawn struggle between guilty lords and innocent serfs.
Consider once more that timely number of Academe from which I have already drawn several illustrations. In an article by Christopher Edley, Jr., entitled "Intellectual Workers and Essential Freedoms," the author takes for granted that the agenda of multiculturalism and diversity consists in "our evolving quest to perfect the norm of equality or anti-discrimination." Edley complains that critics petulantly insist on criticizing multiculturalism and diversity rather than accepting it in grateful silence. "So," he says, "our revolution continues, and our ideals must struggle against the human tendencies and the social forces that would cause our experiment to founder and fail." If it's an "experiment", of course, then it can hardly "fail", its conclusion being in principle unknown beforehand. Edley does not distinguish between an experiment and an agenda. In an antepenultimate paragraph whose rhetoric waxes cosmic, Edley commits the usual gesture of sealing the argumentative circle: "The absence of diversity corresponds with deficits in the content of our teaching, our research products, and our mentoring for a diverse student body destined to lead in diverse communities (throughout the solar system)."
Evelyn Hu-DeHart, in her article on "Institutionalizing Multiculturalism or Managing Differences," protests that the practitioners of traditional scholarship grudgingly refuse to acknowledge the legitimacy of "ethnic studies", and that they do this "mainly by withholding respect for the work of ethnic studies scholars, whose approach to scholarship they do not fully comprehend." What "approach" do the practitioners of "ethnic studies" take to scholarship? Hu-DeHart defines it this way: "Ethnic studies scholars perceive as their primary responsibility interrogating any and all received wisdom—particularly those truths presented as universal without regard to the context or perspectives of the people generating them. Equally important is demonstrating alternative ways to construct knowledge, so as to redefine the nature of knowledge and how it is used to understand the physical world and human condition." Constructing knowledge, by the way, means making up new facts when the real ones prove inconvenient. Marx and Engels indulged this propensity liberally, as W. O. Henderson and W. H. Challoner showed as long ago as 1958 in a book which no on will find on any contemporary graduate school reading list.
Hu-DeHart's contentions recreate Marx's argument, previously quoted, about "producing and appropriating intellectual products." She also manages to incorporate the "oppression" theme (there's a conspiracy of disrespect against us) and the social-determinism theme (truth depends on sex and race) that circulate in Marxist discourse. Note the double-standard implicit in Hu-DeHart's scheme: the duty falls hard on "ethnic studies" scholars to question everything; but when people from other, longer standing, disciplines question "ethnic studies", this qualifies as a conspiracy to withhold honor. Note also how her definition of what "ethnic studies" scholars do depends on the verb to perceive. The perceptual world of surfaces means everything to multiculturalism and diversity; of depth, of an interior or any substance, on the other hand, one detects not a trace.
Remark, finally, the egomaniacal inflation in Hu-DeHart's rhetoric. When she tells us that multiculturalism and diversity propose nothing less than "to redefine the nature of knowledge," she waxes almost as cosmic as Edley, with whom she will perhaps one day join in imperial co-regency over the solar system.
III
These observations bring me back to where I started, in the intimidating work of Oswald Spengler. The great man's last book, The Hour of Decision, from the fateful year 1933, forms a belated appendix to The Decline. In its pages, he submits the then-current socio-cultural condition of Europe and North America to his "physiognomic" analysis. While much has changed since the mid-century, much also remains the same. One paragraph from midway through The Hour might indeed be taken as a prescient comment on the jargon of mock ethnicity that supplies the discourse of multiculturalism and diversity:
One of the reasons why the Marxian system became the most effective [of utopian systems] was that it was the last. Anyone who today draws up political or economic programs for the salvation of "mankind" is out of date and tiresome. He is near to being ridiculous. But the upsetting effect of such theories on blockheads—who in Lenin's estimation amount to ninety-five per cent of all humanity—is still very great (and is actually on the increase in England and America), except in Moscow, where there is only a pretence, for political purposes, of believing in it.
Drawing on the Spenglerian insight and taking into account the professorial apology for multiculturalism and diversity as we have been sampling it, I propose the following consideration. Multiculturalism and diversity, far from being the revolutionary completion of humanity's cognitive and moral development, as their proponents so grandiosely proclaim, far from being a respectable intellectual enterprise of any kind whatsoever, amount to little more than a species of ritualized pseudo-cognition; not real thinking at all, but the reiteration of fossilized topics and hoary bromides drawn not even from the edifice of Das Kapital but from the shallow feuilleton of the Manifesto. In this sense, they form but part of a broader phenomenon that has overtaken higher education at the end of the twentieth century, the dissolution of a mandatory, cognitively rigorous, knowledge-based curriculum and the installation in its place of a buffet of disconnected, affect-oriented "experiences", "work-shops", and "mentoring occasions" all heavily infused with the biological reductionism of sex and race. The Association of American University Professors and the American Council on Education make this quite clear in the summary of their joint Report, Does Diversity Make a Difference, published in that handy recent number of Academe. "Racial and ethnic diversity in the classroom is necessary," the Report states, "but not sufficient in and of itself." The other ingredients of the diversity-formula make up a litany of contemporary pedagogical fads: "(A) a learning-centered rather than teaching-centered philosophy, in which the faculty member is considered only one of the classroom participants; (B) interactive teaching techniques, such as small group discussions, student presentations, debates, role-playing, problem posing, and student paper exchanges; and (C) a supportive, inclusive classroom climate." The Report thus explicitly links the multicultural content of pseudo-ethnicity to the affective, knowledge-displacing classroom practices cooked up in the ideological kitchens of our schools of education.
The yoking of easy content to facile method should not come as a surprise. Multiculturalism and diversity indeed resemble a kind of virtual thinking, of the sort necessarily marshaled by any authoritarian doctrine. Like the virtual planetary system in the video game, the thought in multiculturalism and diversity never changes—and, if one will allow the paradox, it's not really there anyway. The screen lights up when you drop the coin into the slot, and then you get to shoot down lots of Imperial Star-Cruisers (piloted by dead white males), but nothing in the real world has been altered. Indeed, in their ritualistic-formulaic nature, multiculturalism and diversity together exhibit a hostile aversion both to facts and to thinking. If we accept that thinking is the most essential human form of doing, then we might well say that multiculturalism and diversity substitute being for doing: while they indict the alleged passivity of the traditional curriculum that they despise, they place no mental obligation on their own constituency. Merely to be female or "of color" or to be able to lay claim to victim-status becomes the sign of one's authority, sidestepping the painful process of actually learning or knowing anything, or of adverting to any appellate authority outside oneself. The autobiography of the freshman (or more likely of the professor, mercilessly burdening the student) becomes the new approved text of the nebulous curriculum sans livres. What books still end up in the hands of students—yesterday those of Alice Walker and today those of Toni Morrisson—paint a libelous picture of the human scene guaranteed to exercise an "upsetting effect", as Spengler says, on people who have read little else and perhaps do not even read very well.
Being is perfectly natural and even the dead can do it. Doing, especially the doing that we call thinking, makes quite unnatural demands. High culture, as Spengler well understood, consists of a broad range of unnatural, mainly cognitive, requirements placed on the natural person, beginning with the arbitrariness of toilet-training and the abecedary. In the twentieth-century triumph of democracy, as Spengler argued on the very eve of totalitarian accession in his own country, "the preference of otium cum dignitate to boxing matches, the appreciation of fine art and poetry, even the delight in a well-kept garden of flowers and rare fruits are things to be burnt, smashed, or stamped out. Culture, because of its superiority, is the enemy." Does old Oswald protest too much? I think not, for, after all, a renowned drama-teacher recently lost his job in Arizona because he preferred Shakespeare to Betty the Yehti. The NEA has funded a Crucifix immersed in urine on the claim that it is art; and pre-modern (destructively tribal) attitudes about race have become ensconced in our institutions of higher education, not to say elsewhere as well. There isn't a single job-description in the MLA list that doesn't feature the booby-trap of affirmative action rhetoric. We know, do we not, that when Backwater Seepage University advertises that they want an expert in the nineteenth-century American novel who can also teach the seminar in post-colonial discourse, what they are really interested in is, not the nineteenth-century American novel, but post-colonial discourse. You would think that Backwater Seepage University would be distinct, swampy, in a word, different. As far as that were the case, we would admire Backwater Seepage University. With the advent of multi-culturalism and diversity, however, it joins in Anschluss with the increasingly homogeneous, not to say monolithic, world of the American Academy¾ with what columnist Joe Sobran trenchantly calls the Hive. Are multiculturalism and diversity really sub-proletarian reactions, as Spengler avers, against such basic civilized precepts as form and decorum? Isn't that going too far? Let me briefly revisit Hu-DeHart's Academe essay. In it, she takes up two paragraphs to denounce the concept of "civility" as applied to the implementation of multiculturalism and diversity. Administrators subvert multi-culturalism and diversity, she says, "by studiously avoiding discussion of structural inequalities... by failing to distinguish between individual and group differences, and by stressing the role of civility above all else in creating a diverse environment."
Between the absurdity of Edley's claim that multiculturalism and diversity seek their telos in the governance of the solar system and the malevolence of Hu-DeHart's attack on civility because it inconveniences her program, we have before us the undisguised horizons of the multiculturalism and diversity Weltanschauung. Diversity—let us mince no words—serves as a euphemism for stifling conformity and for a radical reduction of intellectual boundaries while multiculturalism proffers us little, if anything, in the way of culture. Remarking that they possess culture, by the way, is not a particularly significant method of differentiating people, since everyone absorbs this or that culture in the very air that he breathes. If you speak a lingo and you live in a place, you have culture. Thus the remotest New Guinea highlander has as much culture as the most amply landed British aristocrat. What every newborn lives in want of, however, if he hopes for pharmacology to see him through the otherwise killing infections, if he wants to enlarge his mind while passing through childhood and adolescence, is not culture, but, in a word, civilization. Her Majesty's faithful knight might be as much in want of civilization as the New Guinea highlander. (There are a number of recommendable Monty Python sketches on just this subject.) The monk in his cell on Skellig Michael in the eighth century A.D., on the other hand, is practically as remote from Greece and Rome as the New Guinea highlander, but he has his Greek and Hebrew grammars to hand, and his Dionysus the Areopagite, and possibly even his Plato and Aristotle, and he thus has civilization. Civilization, High Culture, is not a matter of passive being but of active doing. One must rise on tip-toes, as Thoreau says, to meet it.
Permit me to make an end by means of one more autobiographical self-indulgence. I owe my original familiarity with Spengler to an eleventh- and twelfth- grade English teacher, Gary Johnston, whose courses I took at Santa Monica High School between 1969 and 1972. Johnston also taught German, although I studied that flinty tongue (as the poet Borges calls it) with someone else. (Frau Something-or-Other, efficient but unmemorable, at UCLA.) Recently, I established communication with another former student of Johnston's who had returned to Santa Monica High School in the mid-1970s as a teacher, and got to know our former instructor on a collegial basis. Johnston has long since disappeared, no one seems to know where, but my acquaintance has expended considerable effort in tracking down the old syllabi of the college-prep courses that the vanished gentleman taught. One course, called "Western World Ideas", explicitly addressed the role of "outsiders", as Johnston called them, in a sequence of historical societies from Bronze Age Mesopotamia through Greece and Rome to the European nineteenth century. The course-description mentions the central place of homosexuality in Mesopotamian epic, of the non-European in European Romantic literature, of the criminal in the novels and dramas of the mid-twentieth century existentialists. It touches on the power of the feminine in Plato's dialogues, and actually invokes the term "patriarchy". In addition to all of this, the syllabus sets forth the required reading. (This is a high-school course, mind you.) I'll simply cite the list: "Plato's Phaedo, Brossard's The Bold Saboteurs, the Sumerian Gilgamesh epic, Sophocles' Oedipus Tyrannus, Richard Strauss' opera Electra (with libretto by Hugo von Hoffmansthal), Aeschylus' Prometheus Bound, portions of the Old Testament, Wagner's Ring of the Nibelungs (in a parallel German and English text), Nietzsche's Zarathustra, O'Neill's The Iceman Cometh and The Hairy Ape, Brown's The Brig." Not listed, but made available, were extracts from The Decline of the West. I remember that semester vividly; I remember the difficulty of it, but also the excitement, the sense that a tough assignment had toughened my mind, the giddy feeling that I had glimpsed a world as different from the one I knew as some faraway planet is from the familiar green earth. Uttering prescribed formulas would have been impossible. Virtual thinking simply would not have sufficed. The demands of the reading, and—dare I say it?—the diversity of alien views in the great range of the assignments, would have (and did) put fakery beyond reach. The only course of action consisted in rising hopefully and strenuously to the material.
That, my friends¾ the intellectual arduousness of it¾ is the true definition of a real education, and that is what is missing in the counterfeit enterprise of multiculturalism and diversity.       back to top
*

*
*
*
*
*
*
*
*
*
*
*
*
*
*
*
*
*
*
*
*
*
*
*
*
*
*
*
*
*
*
*
*
*
*
*
Peter Singleton's fearless Return to Chivalry: How Contem- porary Men Can Recover the Dignity of Living for a Higher Pur- pose, has just been released by Arcturus Press.
*
*
*
*
*
*
*
*
*
*
*
*
*
*
*
*
*
*
*
*
*
*
*
*
*
*
*
*
*
*
*
*
*
*
*
*
*
*
*
*
*
*
*
*
*
*
*
*
*
*
*
*
*
*
*
*
*
*
*
*
*
*
*
*
*
*
*
*
*
*
*
*
*
*
*
*
*
*
*
*
*
*
*
*
*
*
*
*
*
*
*
*
*
*
*
*
*
Mary Grabar has very nearly finished her dissertation at U. Georgia, Athens. Her "Physically Challenged and the Sixth Grade" appeared in Praesidium 1.2.
*
*
*
*
*
*
*
*
*
*
*
*
*
*
*
*
*
*
*
*
*
*
*
*
*
*
*
*
*
*
*
*
*
*
*
*
*
*
*
*
*
*
*
*
*
*
*
*
*
*
*
*
*
*
*
*
*
*
*
*
*
*
*
*
*
*
*
*
*
*
*
*
1 From p. 5 of Mita Choudhury, "Introduction," South Atlantic Review 66:2 (Spring 2001): 1-13.
*
*
*
2 Ibid., 6.
*
*
*
*
3 Since the Peruvians are likely to be illiterate one wonders how one could present an un-mediated version to Western readers.
4 Op. cit., 6.
*
*
*
*
*
*
*
*
*
*
*
*
*
*
*
*
*
*
*
*
*
*
*
*
*
*
*
*
*
*
*
*
*
*
 Thomas Bertonneau recently moved from Michigan to Oswego (on Lake Ontario) in New York. He teaches fresh- man composi- tion at SUNY Oswego and Onondaga Community College (Syracuse). We have no doubt that he is also engaged—still and always—in many unremun- erative (but not unrewarding) projects aimed at redeeming our culture from intellectual vandalism, in which noble fight he has often won high honors and for which, of course, he has our utmost respect at Praesidium.
*
*
*
*
*
*
*
*
*
*
*
*
*
*
*
*
*
*
*
*
*
*
*
*
*
*
*
*
*
*
*
*
*
*
*
*
*
*
*
*
*
*
*
*
*
*
*
*
*
*
*
*
*
*
*
*
*
*
*
*
*
*
*
*
*
*
*
*
*
*
*
*
*
*
*
*
*
*
*
*
*
*
*
*
*
*
*
*
*
*
*
*
*
*
*
*
*
*
*
*
*
*
*
*
*
*
*
*
*
*
*
*
*
*
*
*
*
*
*
*
*
*
*
*
*
*
*
*
*
*
*
*
*
*
*
*
*
*
*
*
*
*
*
*
*
*
*
*
*
*
*
*
*
*
*
*
*
*
*
*
*
*
*
*
*
*
*
*
*
*
*
*
*
*
*
*
*
*
*
*
*
*
*
*
*
*
*
*
*
*
*
*
*
*
*
*
*
*
*
*
*
*
*
*
*
*
*
*
*
*
*
*
*
*
*
*
*
*
*
*
*
*
*
*
*
*
*
*
*
*
*
*
*
*
*
*
*
*
*
*
*
*
*
*
*
*
*
*
*
*
*
*
*
*
*
*
*
*
*
*
*
*
*
*
*
*
*
*
*
*
*
*
*
*
*
*
*
*
*
*
*
*
*
*
*
*
*
*
*
*
*
*
*
*
*
*
*
*
*
*
*
*
*
*
*
*
*
*
*
*
*
*
*
*
*
*
*
*
*
1 From The Decline of the West, vol. 1, "Form and Actu- ality", tr. Charles Francis Atkinson (New York: Knopf, 1932), 30. Subsequent references to Spengler in this essay are all drawn from vol. 1 of Atkinson's translation, which is quite faithful, as far as I can tell. I may as well declare that my analysis is based upon an incomplete reading of Spengler's great work, and that my citations, for the most part, are drawn from his introduction. My present argument is built of generalities—which, I believe, are no less accurate for being broad of scope.
 If I may anticipate my misgivings: I recently happened upon the following deadpan assessment of ancient Athens on the part of one Eva Keuls, whom Cynthia Eller cites in her excellent book, The Myth of Matriarchal History (Boston: Beacon 2000). Note how similar are Keuls's terms to those in the second half of Spengler's remark above. "In the case of a society dominated by men who sequester their wives and daughters, denigrate the female role in reproduction, erect monuments to male genitalia, have sex with the sons of their peers, sponsor public whorehouses, create a mythology of rape, and engage in saber-rattling, it is not inappropriate to refer to the reign of the phallus" (Matriarchal History 169). Now, this is no enthusiastic dilettante speaking, but a humorless ideologue who is convinced of her every word. That her indictment is argumentative (denigrating female reproduction? mythology of rape? saber-rattling?), full of distortion (phallic objects were apotropaic—hardly monuments; pederasty is an involved issue—Plato's dialogues are often critical of it), and grossly reductive (where were women not "sequestered" at the time? what men, other than kings, were not so by our standards?) never occurs to her. Such insistence upon otherness—not a sophomore's titillation with it, but a zealot's rigorous refusal to see the alien vitiated by common humanity—is part of the Spengler legacy, it seems to me. His pre-Derridean discovery of "difference" has now evolved into a scholarly industry in severing vast chunks of humanity and history from the chosen clique of victims.
2 Ibid., 31.
3 Ibid., 41.
*
*
*
*
*
*
*
*
*
*
*
*
*
*
*
4 Ibid., 45.
*
*
*
*
*
5 The translation is my own.
*
*
*
*
*
*
*
*
*
*
*
*
*
6 Pierre Lasserre devoted a large section to "l'influence germanique" in his forgotten classic, Le Romantisme Français (Paris: Société du Mercure de France, 1907), 470-534, with emphasis on Fichte, Schelling, and Herder. This quasi-mystical faith in the future's promise of fulfillment had already come to be identified as distinctly German by the beginning of the twentieth century.
7 Whether justifiably or not, I am reminded here of anthropologist Eric Gans's observation that many in his field are content to let hoary rituals and customs slide into an infinite past rather than face the eventual need of an "originary event". (See, for instance, The End of Culture: Toward a Generative Anthropology [Berkeley and Los Angeles: U of California P, 1985].) In Spengler's case, the originary moments of a culture seem absolutely crucial to all that follows, yet I cannot tell that he has done other than assume that those moments are as incidental as a stream's drying up—or, at most, as the fact of living by a stream.
*
*
*
*
*
*
*
*
*
*
*
*
*
*
*
*
*
*
*
*
*
*
*
*
*
*
*
*
*
*
*
*
*
*
*
*
*
*
*
*
*
*
*
*
*
*
*
*
*
*
*
*
*
*
*
*
*
*
*
*
*
*
*
*
*
*
*
*
*
*
*
*
*
*
*
*
*
*
*
*
*
*
*
*
*
*
*
*
*
*
*
*
*
*
*
*
*
*
*
*
*
*
*
*
*
*
*
*
*
*
*
*
*
*
*
*
*
*
*
*
*
8 Op. cit., 43-44.
*
*
*
*
*
*
9 Viz., "… history may best be treated as a chapter of epistemology; and so indeed Kant would have treated it if he had remembered to include it at all in his system of knowledge." Ibid., 119-120.
*
*
*
*
*
*
*
*
*
*
*
10 In fact, there are numerous references in De Div. to what Cicero (or Quintus) calls divinatio naturalis—a kind of soothsaying based upon careful study of related events in nature, such as a well's emptying before an earthquake. (Qunitus gives Pherecydes, teacher of Pythagoras, credit for this variety of shrewd forecast: see 1.50. 112.) Nothing could be more empirical, if not downright scientific. At the end of the first book, Quintus actually proposes that there is "an order and series of causes, inasmuch as one cause linked to another produces from itself a given event," and that the divinator naturalis, "since everything is thus fated to happen… would be deceived by nothing if he could possibly be such a man that he could grasp in his faculties the connection of all causes together" (1.55.125-56.127). Here we come full circle to that Stoical determinism which Cicero gently mocks in De Fato. The soothsayer, the Calvinist, and the scientist are drawn irresistibly into the vortex of matter, along with a back-pedaling Spengler.
11 Op. cit., 120.
*
*
*
*
*
*
*
*
*
*
*
*
*
*
*
*
*
*
*
*
*
*
*
*
*
*
*
*
*
*
*
*
*
*
*
*
*
*
*
*
*
*
*
*
*
*
*
*
*
*
*
*
*
*
*
*
*
*
*
*
*
*
*
*
*
*
*
*
*
*
*
*
*
*
*
*
*
*
*
*
*
*
*
*
*
*
*
*
*
*
*
*
*
*
*
*
*
*
*
*
*
*
*
*
*
*
*
*
*
*
*
*
*
*
*
*
*
*
*
*
*
*
*
*
*
*
*
*
A frequent contributor to Praesidium, Gianna devotes most of her time now to raising a family and to freelance writing.
*
*
*
*
*
*
*
*
*
*
*
*
*
*
*
*
*
*
*
*
1 Peter Kropotkin (1842-1921) founded an anarchist variety of communism. Llarvi sneers at him, I presume, for being naively idealistic in his loathing of power.
*
*
*
*
*
2 My translation from the Spanish paperback edition by Seix Barral (Barcelona: 1979), 43-44. The novel was first published in 1941.
*
*
*
*
*
*
*
*
*
*
*
*
*
*
*
*
*
*
*
*
*
*
*
*
*
*
*
*
*
*
*
*
*
*
*
*
*
*
*
*
*
*
*
*
*
*
*
3 Ibid., 44-45.
*
*
*
*
*
*
*
*
*
*
*
*
*
*
4 My translation from Pierre Lasserre, Le Romantisme Français (Paris: Société du Mercure de France, 1907), 48.
*
*
*
*
*
*
*
5 Ibid., 58-59.
*
*
*
*
*
*
*
*
*
*
*
*
*
*
*
*
*
*
*
*
*
*
*
*
*
*
*
*
6 Leon J. Podles, The Church Impotent: The Feminization of Christianity (Dalles: Spence, 1999), 193. I am indebted to Praesidium's editor for calling this book to my attention.
*
*
*
*
*
*
*
*
*
*
*
*
*
*
*
*
*
*
*
*
*
*
*
*
*
*
*
*
*
*
*
*
*
*
*
*
*
*
*
*
*
*
*
*
*
*
*
*
*
*
*
*
*
*
*
*
*
*
*
*
*
*
*
*
*
*
*
*
*
*
*
*
*
*
*
*
*
*
*
*
*
*
*
*
*
*
*
*
*
*
*
*
*
*
*
*
*
*
*
*
*
*
*
*
*
*
*
*
*
*
*
*
*
*
*
*
*
*
*
*
*
*
*
*
*
*
*
*
*
*
*
*
*
*
*
*
*
*
*
*
*
*
*
*
*
*
*
*
*
*
*
*
*
*
*
*
*
*
*
*
*
*
*
*
*
*
*
*
*
*
*
*
*
*
*
*
*
*
*
*
*
*
*
*
*
*
*
Mr. Moseby is a regular con- tributor to Praesidium. His stories appear in several of this year's issues.